Recruitment season, also known colloquially as rush, is the perfect opportunity to get to know the sisters of Kappa Phi Lambda and learn what our organization stands for. Our events are designed with you in mind, and we're here to show you what this sorority is all about! Everyone is invited to come to our events – which are completely FREE and NON-BINDING – to interact with our sisters, ask questions, and most importantly, have fun!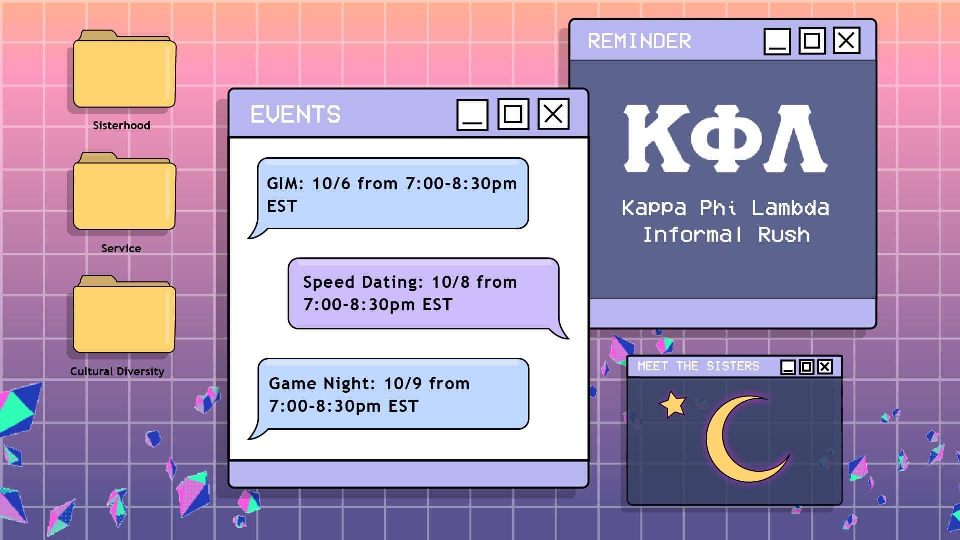 Cornell Kappa Phi Lambda
✩ FA20 Informal Rush ✩
⁺ All grades are welcome to come to Informal Rush! ⁺
Although we will not be taking any new members this semester, attending Informal Rush is a good way to get to know our sisters and see what our organization stands for! If you have any questions at all, feel free to contact our rush chairs!
Rachel ⁺imugi⁺ Kwon
jk2353@cornell.edu
(646)670-7242
Brittany ⁺Blue Moon⁺ Lee
bl473@cornell.edu
(607)379-3011
⁺ Informal Rush is now over! Come meet us next semester for our Spring 2021 Rush! ⁺