Recruitment ("rush") season is a two-week period at the beginning of each semester. It is a perfect opportunity to get to know the sisters of Kappa Phi Lambda and learn what our organization stands for. Our events are designed with you in mind, and we're here to show you what this sorority is all about! Everyone is welcome to come out to our events, which are completely FREE and NON-BINDING, to bond with our sisters, ask questions, and most importantly, have fun! We can't wait to meet you!ヽ( ´ ∇ `)ノ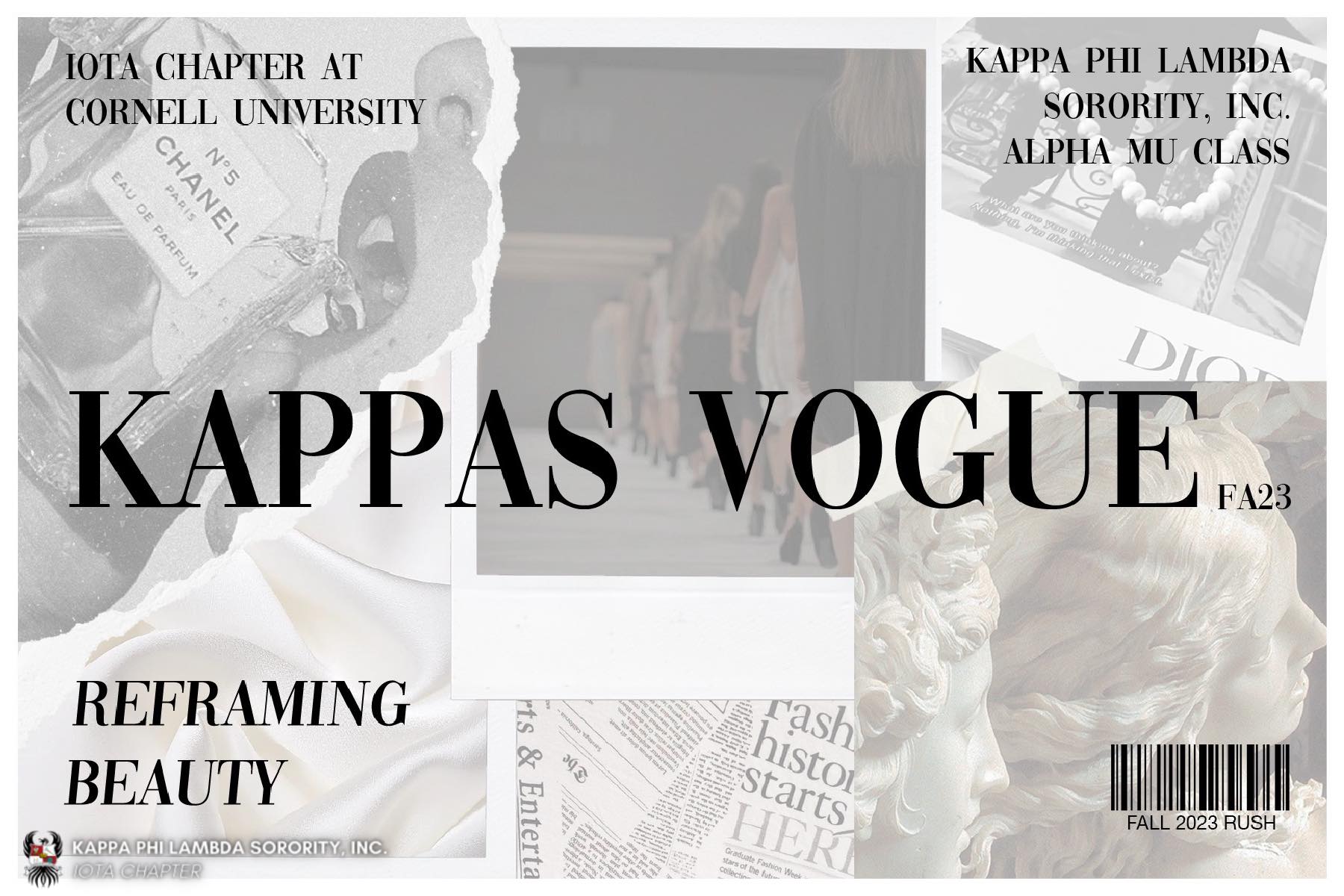 🪞 FA23 Rush - Kappas Vogue 🪞

Interested in being a part of our Alpha Mu Class? We, the sisters of the Iota Chapter of Kappa Phi Lambda Sorority, Inc. at Cornell University, cordially invite you to our Fall 2023 Rush: Kappas Vogue! If you have any questions, feel free to contact our rush chairs!.
Monica *yuḡen* Nguyenduy
IG: @_monica.n
mn473@cornell.edu
Emily *evanthia* Chen
IG: @emilyxchxn
ec662@cornell.edu
⭒ FB Event Page: click here
⭒ Interest Form: click here

MOST FREQUENTLY ASKED QUESTIONS ABOUT RUSH
01. What is Rush?
Recruitment, better known as rush, is a period of time at the beginning of every semester where Greek-life organizations (fraternities, sororities, and co-ed fraternities) try to recruit members. There are no obligations or commitments involved with rush, and it is completely cost-free to you. You can even request a ride (at least 24 hours in advance) to events! Throughout rush, we hold free activities/events that provide opportunities for sisters and interested girls to hang out, chat, and have fun. Hopefully, through these events, you will gain a bigger picture of who we are, what we do, and what Kappa Phi Lambda is like. Likewise, we hope that we can learn more about you and get to know you better. So come out, be yourself, and have some fun!
02. Why rush Kappa Phi Lambda?
What makes us different? Kappa Phi Lambda is a cultural sorority that was founded on the principles of sisterhood, service, and cultural diversity. We work to promote Pan-Asian culture and provide community service, all while maintaining academic excellence. Furthermore, sisters of Kappa Phi Lambda are always there for each other to give a helping hand and to share in each others' happiness. Kappa Phi Lambda's sisterhood is eternal! With continuous commitments to community service, our philanthropy events, various cultural events and, of course, the mixers and parties that we host, your college career is sure to be a well-rounded one. Additionally, Kappa Phi Lambda is one of the fastest-growing organizations of its kind. Most importantly, we make lasting impacts on the lives of our sisters, even beyond our collegiate years. We provide extensive opportunities to network and prepare for your future. You will develop and improve time-management skills, leadership skills, and social skills. We have sisters and alumnae working at companies such as Facebook, Microsoft, Accenture, and many more. The connections you form as a sister of Kappa Phi Lambda last a lifetime!
03. How do I join Kappa Phi Lambda?
In order to join Kappa Phi Lambda, you must first receive a bid, which is a formal invitation for you to begin the new member process for our sorority. ⁺ In order to be eligible to receive a bid, you must attend our general interest meeting, private interest meeting, two rush events, be invited for an interview, and complete our online application form, in addition to meeting the GPA requirement of 2.7. ⁺ We would like for you to attend our general and private interest meetings so that we can show you the more formal aspects of our organization, while other rush events are more informal and allow for more personal interaction. Bids are then given to women who we feel would be an asset to our organization and with whom we feel we can develop bonds of sisterhood.
04. I'm not Asian or Asian American. Can I still join Kappa Phi Lambda?
Absolutely! Kappa Phi Lambda is Asian-interest, not Asian-exclusive. We have many different nationalities represented within Kappa Phi Lambda, and as a cultural sorority we encourage diversity. We believe recognizing individual members for the unique value they add makes us greater as a whole.
05. If I do receive a bid and choose to accept it, what happens next?
After accepting the bid, you will officially begin the new member process. Most Greek-life, as well as some professional organizations, will have a new member process, which is simply a period of time that is meant to help you learn more about the organization you are joining. Our new member process educates potential new members about our sorority and prepares them to be good sisters of Kappa Phi Lambda. During this time, potential new members learn about the history, values, and logistics of our sorority. We also provide opportunities for class bonding, cultural education, career help, and bonding with the older sisters of Kappa Phi Lambda. The new member process is a period where you not only learn about us, but also about yourself and your fellow potential new members in your class. We hope for it to ultimately be an educational and rewarding experience for our potential new members!
06. I've heard all these horrible stories about hazing. Is this going to happen to me?
Hazing is illegal at Cornell University and is strictly against the policies of Kappa Phi Lambda. Our sisters would never humiliate or harm our potential new members in any way, nor would we ever force you to do anything you do not feel comfortable doing. As potential new members and future sisters, we cherish and respect you.
07. How much does being a potential new member or sister cost?
Although there are some fees, we do not collect large amounts of money from you during our new member process. As for being a sister, you may be surprised to find out exactly how low our dues actually are, as they are among the lowest of all Greek-life organizations on campus. As a non-profit organization, we also hold many fundraisers and events to raise money for our expenses. We would never want money to be the reason you miss out on sisterhood, so we also have payment plans and can make further accomodations for dues!
08. How do I know if a sorority is right for me?
There is no one single RIGHT reason to join a sorority, but there are a lot of benefits. If you find that the values of the organization coincide with your own, that you fit in well with the sisters, and that the events we organize are ones that you'd like to be a part of, then we're probably a good fit for you!
09. Is it okay for me to come to rush by myself?
Of course! Rush is meant for you to get to know our sisters! Although having a friend tag along always helps if you're shy or get nervous easily, it's totally fine for you to show up alone! Our sisters will make sure you're never alone once you arrive at events! Furthermore, most girls end up making friends with other girls rushing as well, and end up coming to events together later on during rush!
10. Will joining a sorority negatively impact my grades? Is it all just partying and drinking?
Sorority and Greek life, in reality, is definitely NOT the life of partying and drinking that people are used to seeing in media. In fact, many of our sisters choose not to attend any events of that kind and that is totally okay! Each sister is their own individual and we value that, and we definitely don't expect any of our sisters to fit any stereotype. Furthermore, if you're concerned about the impact that joining a sorority will have on your grades or career, don't be! The success of our sisters is proof that the stereotype of Greek-life having a negative impact on your grades and career is FALSE. In fact, as of Spring 2020, Kappa Phi Lambda had the 6th highest mean cumulative GPA out of all 53 Greek-life organizations on campus! One of our main principles is academic excellence, and our sisters are always willing to help out with academics, sharing advice about courses they took in the past, editing résumés, providing job referrals, and so much more.